In the previous two posts, I mainly focused on the theme and the in-game experience. In this post, I want to talk about the sort of "first experience" of the game, the game title. I want to look back at how I came up with the name and why it didn't work out in the end. I also want to briefly talk about the importance of a good logo and a catchy game title.
The name of the game
City building game is one of my favorite game genres. I grew up playing SimCity on SNES, SimCity 2000 on a Mac, SimCity 3000 and SimCity 4 on a PC. Now I enjoy playing Cities Skylines. I like board games with the city building theme as well. While they have a completely different gameplay, weight, and play style, I enjoy playing games with city building theme like Small City, Quadropolis, Suburbia, and Ginkgopolis.
When I thought about the theme for this game, I immediately thought about making it a city building theme and coming up with a game title that matches it. Since the mechanic had a tycoon-ish aspect, I thought about -Tycoon (a la Roller Coaster Tycoon) and -Fever (a la Transport Fever). Each player was bidding on a project, so I thought about Construction, and therefore it was named Construction Fever.
To go straight to the bottom, the name wasn't very popular from the beginning. Some people said the name isn't catchy, some said its too long and wordy, and some said it is uninteresting. The logo didn't help either, making the title hard to read at distance. I got some praise that the box art looked pretty, but I also got feedback saying that the overall appeal looked like a poster found in a city hall. Lastly, I later learned that good rule-of-thumb for a branding item is to keep it within two words and 4 syllables max.

So I decided that I need to come up with a new title, but this is easier said than done. Since I wasn't confident that I can come up with a good title by myself, I took a poll of an interesting game title at Strategicon, a local gaming con in Los Angeles back in February. The question I asked was, "Without knowing what the game is about, which of these sounds most interesting to you?" The answers I got back were as follows.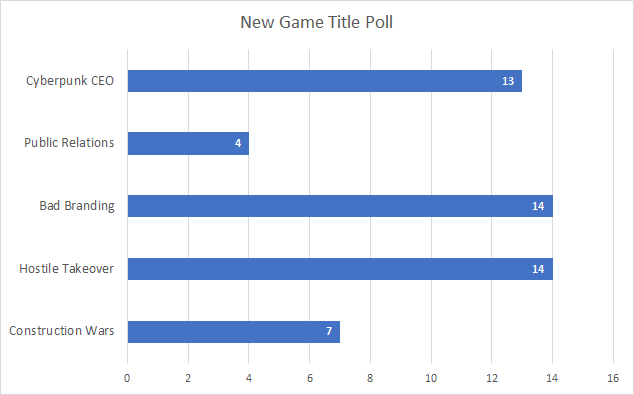 It was a close tie between the three. I sort of expected Hostile Takeover to be popular since it is the title that you can easily imagine the contention. Cyberpunk CEO was also popular since, again, it is easy to imagine the game theme. I was a bit surprised that Bad Branding did so well. This was my personal favorite because it matches the "reputation" aspect of the game mechanics a lot, and, I thought it was pretty different. I haven't made the final decision yet, but I am leaning towards Bad Branding.
Which one would you choose? Tell me in the comments below!
https://ninjastargames.com/wp-content/uploads/2020/05/logo.png
229
800
Dan Kobayashi
https://www.ninjastargames.com/wp-content/uploads/2017/11/Ninja-Star-Logo-outline-website.png
Dan Kobayashi
2020-05-12 09:02:00
2020-05-13 09:13:04
Learning from the mistakes of Construction Fever – part 3