In this blog series, I want to reflect on our previous Kickstarter campaigns and share thoughts on why/how we did certain things in our campaigns. In my first post, I want to cover shipping since it is one of the question that I get asked the most.
Before I begin, I want to point out that there are many wonderful blogs that talks about Kickstarter advice such as Stonemaier's blog and James Mathe's site. I want to pay a lot of respect to them as many things I talk about here are based on their advice. You should definitely check their pages out if you haven't already.
Shipping is a tricky topic. No one ever likes paying for shipping, and now-a-days with services like Amazon, it is normal for consumer to assume free or very cheap shipping. However, for product like ours the package will be bulky and heavy, and we won't be shipping in masses to get discounts from carries. Thus the only way to look cheap is to include some or all of the shipping cost into the pledge amount.
For smaller games with small and rigid boxes, you can save significantly by utilizing padded envelopes. For example, in Arkham Ritual campaign, we offered free/$1/$2 shipping by doing both of the above. For US, we self-fulfilled and shipped via USPS first class package. For ROTW, we used Send From China, so the costs are directly from a factory in China. Lets break the shipping cost down into details. (*Note that the cost estimate is from 2017)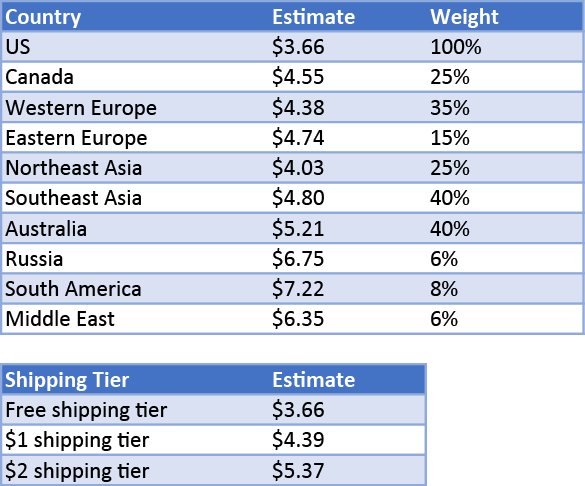 We included $3.45 for shipping into the pledge cost. Although we were estimating to lose $0.21 per shipment to the US, we calculated that we can recoup most of it by saving some on per shipment to ROTW. Here is what ended up happening.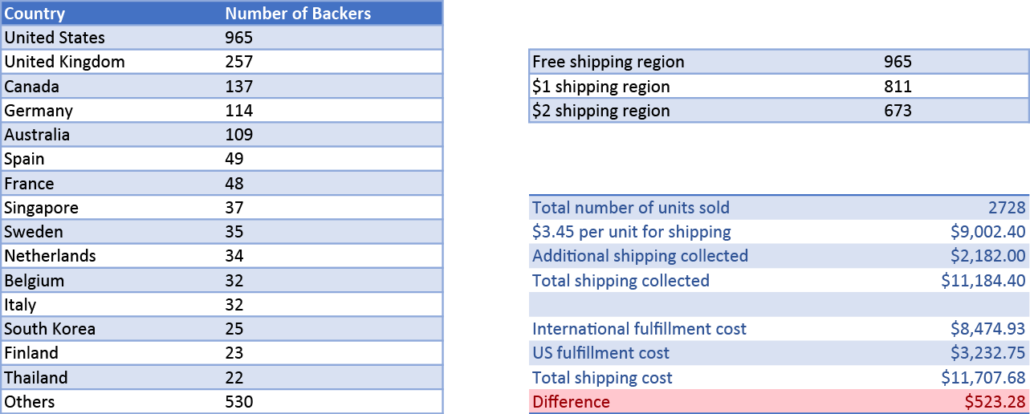 Also, 6-pack pledge helped out a lot. Since $3.45 was calculated into the original cost, 6-pack meant that I had over $20 to spend for the shipping. Although some international destination did cost a lot in shipping the 6-pack, $20 was close to double what I needed to ship within the US. The end cost was slightly higher than estimate, partly due to reshipment. Although there was roughly 1% reshipment due to shipping damage or shipping errors, it was still a lot cheaper than working with a fulfillment partners.
They key takeaway from this was that I was only able to self fulfill close to 1000 US orders because the game was small and can be shipping in a bubble wrap envelope. If it was bigger game that needs to be shipped in a box, there was no way I could have self fulfilled. Similarly, shipping by Send From China would have been a lot more expensive and difficult to manage had the game been bigger.
The most important point I want to emphasize in this post is that shipping board games is expensive. $10-20 in shipping is sometime unavoidable. However, we creators do our best to make it as reasonable as possible for the backers.
What's your thoughts on shipping, and how do you feel about creators offering reasonable shipping?
https://ninjastargames.com/wp-content/uploads/2020/04/publicdomainq-0003938llu.jpg
567
900
Dan Kobayashi
https://www.ninjastargames.com/wp-content/uploads/2017/11/Ninja-Star-Logo-outline-website.png
Dan Kobayashi
2020-04-27 08:49:00
2020-05-08 09:02:52
Thoughts on Kickstarter #1: Shipping